Grinding Out A Winning Performance
PULLING THE TRIGGER TO LOW HAND ARM VIBRATION
Whether you are a fabricator or a plater, the hard part of any grinding job is choosing the right grinding disc that will not only save you time but will also deliver on the finished quality. They are one of the most important tools in your box but the user is so busy getting his work out of the front door on time  that he has lost touch of the better, longer lasting alternatives to the old favourites now available out there.
Indeed, technology has come a long way – even in abrasive discs. Enter CC Grind Solid … with its unparalleled removal rate, longest tool life of any grinding disc – and on an occupational health note produces 50 per cent less noise, significantly less vibration and 80 per cent reduced dust during use. In fact, Pferd's CC Grind Solid is twice as aggressive as any conventional grinding disc but please don't take our word it.
See Grind Solid in action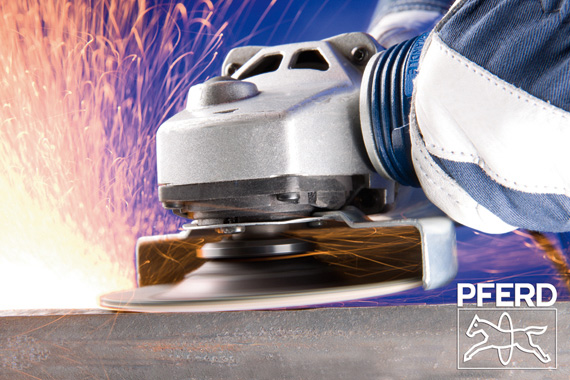 With a tool life of between 45 and 60 minutes, depending on operator use, this grinding wheel, combined with the matching quick-change, vibration-reducing backing pad and locking nut guarantees maximum machining capacity in a very short time.
Unlike reinforced grinding discs, CC Grind Solid is very flexible, allowing score free machining particularly on flat surfaces. Grind Solid is available in two versions one for working on mild steel, the other for grinding Inox or stainless steel Both versions are available in 100, 115 125, 150 and 180mm diameter wheels.
Test before you buy
Call 01664 434 897 for a free no obligation demonstration